OF HIPPOS AND GEORGE WASHINGTON
Toothless George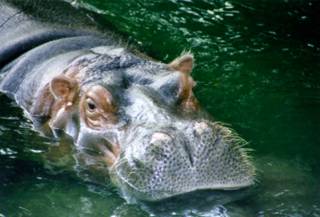 "River horse" on the Potomac?

Nicole has posted on the presence of a hippo on the GW campus and the stories connected with it. See her post
here
and the GW explanation of why a hippo became associated with the university
here
.
I thought I would throw a couple of more wrinkles into the mix.
Two sets of George Washington's false teeth (widely mistaken to have been wooden) were made of
hippopotamus ivory
.
President Washington lost his teeth at a relatively early age. He suffered from poor dental health throughout his younger years. He had two sets of false teeth (dentures) made by the most prominent American dentist of his day, Dr. John Greenwood. They were carved from the finest hippopotamus ivory and gold.
A picture of his dentures can be seen
here
but it isn't clear whether these are the hippo ivory ones or not.
George Washington's own papers mention a "
hippopotamus
" in the mud of the Potomac near Mt. Vernon. However, the item in mention was not the African animal (of which there is probably no evidence of having existed in North America) but rather a type of dredging machine.
Even before Bloxham's arrival, Washington was experimenting with novel ways to increase the fertility of his farms. Certain that "the bed of the Potomac before my door, contains an inexhaustable fund of manure . . . if I could adopt an easy, simple, and expeditious method of raising, and taking it to the Land," he considered using a special dredge developed by Arthur Donaldson, the "Hippopotamus," to bring it to the surface. In the fall of 1785 he borrowed a scow belonging to George Gilpin to raise Potomac mud.
It isn't hard to imagine how with hippo ivory dentures and a "hippo" dredging the mud of the Potomac, it wouldn't be long before lore about the Washingtons fuse them together to create the story repeated by Pres. Trachtenberg about George and Martha seeing hippos cavorting in the river.
And, believe it or not, someone has
found a connection
between George Washington, hippo dentures, and
cow tipping
. Talk about cosmic convergence!